Abdominoplasty (Tummy Tuck)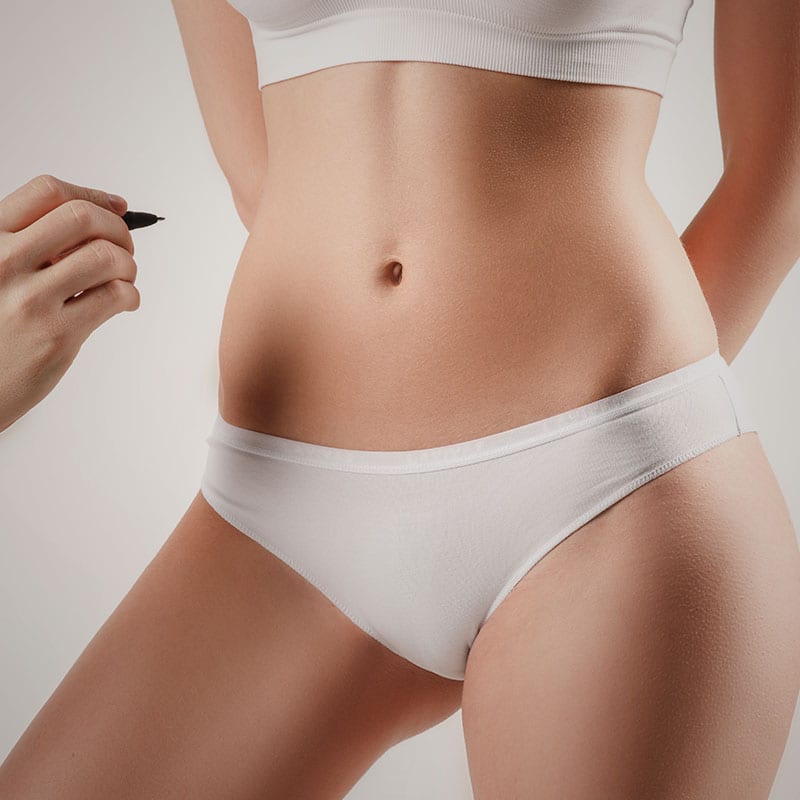 Abdominoplasty or tummy tuck is a cosmetic procedure which removes excess skin and fat from the middle and lower abdomen and tightens the abdominal wall muscles (if required) to restore a flatter and more firm abdomen; particularly after pregnancy or significant weight loss.
Abdominoplasty is suggested for people who have good overall health, but are worried about excess skin and fat deposits on their abdomen that do not respond to lifestyle modifications. Abdominolasty is not a weight losing procedure and indeed people who intend to lose weight through lifestyle changes and diet should postpone the surgery until closer to their ideal weight.
A tummy tuck may not be advisable if you are planning for a future pregnancy and this should be discussed with your surgeon.
Before your procedure, a detailed medical history is obtained, and a thorough physical examination is performed. During your consultation, your doctor will advise you to stop smoking, if you smoke, so as to avoid post-surgical complications and delayed healing.
Abdominoplasty is performed under general anaesthesia or, in selected cases, under sedation combined with local anaesthetic and analgesia. There are two types of tummy tuck procedures: full abdominoplasty and mini abdominoplasty.
Full abdominoplasty is one where a long incision is made from hipbone to hipbone. The abdominal wall muscles are tightened, if required, excess skin and fat are removed and the belly button is relocated with respect to the abdominal skin.
Mini abdominoplasty removes pockets of excess fat and tightens the abdominal muscles but only below the belly button which usually does not need to be moved.
In a newer procedure called lipo-abdominoplasty liposuction is combined with the abdominoplasty operation to enhance the contouring of the abdomen.
After abdominoplasty you will be advised to rest with your hips and knees bent to minimize tension on the repair. The wounds are sutured with dissolvable sutures and you will wear a contoured elastic garment for extra support around the abdomen. This is usually required for four to six weeks. Return to normal usually takes two to three weeks but this can vary depending on your pre-operative physical condition. Strenuous activity is prohibited for the next six weeks.
Abdominoplasty is a relatively safe procedure, however, as with any surgery, there are certain risks and potential complications associated with it. Most of these are uncommon but need to be mentioned. They include bleeding, infection of the wound, delayed healing requiring dressings, blood clots in the legs or lungs, fluid collections under the skin of the abdomen (seroma) and thickening of the scar. Occasionally adjustment surgery is required to remove excess folds of skin at either end of the scar ("dog ears") or to improve on a wide/stretched scar if wound healing problems occurred after the initial abdominoplasty procedure.